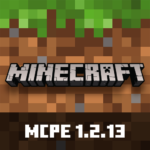 Minecraft PE 1.2.13
Download Minecraft PE 1.2.13 APK for Android with a working xbox live account! At the moment, we can already try out many of the features of Minecraft PE 1.3 Aquatic Update, but for this you need to download Minecraft PE 1.2.13 to your Android phone. We have previously published the MCPE 1.2.13 beta build, but the release version is something else! Viewing absolutely all the changes in this version would take a very long time, so we will write down for you only the most important changes in Minecraft Pocket Edition 1.2.13.
Experimental gameplay in Minecraft PE 1.2.13 release
In the last few versions, Mojang developers have added an interesting feature to Minecraft PE: Experimental Gameplay. You can read about how to activate Experimental Gameplay on our website in the guides section. Interested in the list of innovations in Minecraft PE 1.2.13.54 from the Aquatic Update? You can see it in the article on MCPE 1.2.13 beta. Errors related to these innovations have been fixed in this version.
Features of the MCPE 1.2.13 full update
When playing Realms, players have problems: how to restore the MCPE world to its original state? That's why Mojang developers took care of you and configured Realms so that it automatically creates backups of the world.
Changes in Minecraft 1.2.13 full
Optimization of the work of Minecraft Pocket Edition has been carried out. This means that from now on players will face fewer problems due to lack of memory.
Are you afraid of heights? Place a sheaf of hay on the place of the fall, which will soften the blow and absorb the damage from the fall.
Skin packs that you install yourself will now be displayed at the very beginning of the list.
The display of the list of users in Realms can now be configured
Fixes related to MCPE failures and performance issues
With each update of Minecraft Pocket Edition, everyone's favorite game starts using more and more phone resources, and not every device is able to withstand such a load. That is why it is very important to take care of optimizing the game. Among the errors in the field of optimization, the following can be distinguished:
Much attention is paid to the drawing of the map and its optimization
Block generation now has a different priority: first of all, the blocks that are closest to the player are generated
Fixed 11 different bugs that caused the game to crash on Android devices
Fixes related to the Minecraft PE game world 1.2.13
There are a lot of important details in the gameplay of Minecraft Pocket Edition 1.2.13, but this does not mean that the game cannot be improved and made perfect! That's why Mojang takes care of your gameplay and makes some interesting changes to it:
The harvest from the beds can again be harvested continuously
When the lighting level is 7 or lower, the planted seeds will be dropped from the beds
Fixed some deals with villagers, henceforth each deal gives you experience (XP)
From now on, the spawn point will not appear in a place flooded with lava
After upgrading to Minecraft PE version 1.2.13, the bow will deal the same damage to both mobs and players
Fixed a bug that caused Ender's Eye to indicate the wrong location of the Edge portal
Fixed the spread of fire on wood related to actions with lava
Fixed a bug that caused a player in the Creative mode of Minecraft Pocket Edition to die
Cooking roast pork in the oven now brings experience (XP)
The player does not ignite if he steps on a half-block next to a lava source
Fixed the flight speed of players in Creative MCPE mode
In Stealth mode, falling on a Block of slime does you damage
Item fixes in Minecraft Pocket Edition 1.2.13.54
Items are a very important part of Minecraft Pocket Edition. Playing in MKPE, we constantly use blocks, tools, or weapons to fight enemies. In this regard, monitoring the correct operation of objects, as well as prompt elimination of errors, are simply necessary! Item-related Changelog:
Enchanted golden apples are newly generated in chests hidden in the vast world of Minecraft PE
Need a tag? No problem: tags are re-generated in chests, as well as sold from Villagers
From now on, diamonds are generated in chests with a special inscription: Jungle Temples and Strongholds
Fixed the operation of maps for travel
When the player is in the Creative mode of Minecraft PE, the bottles from the inventory will be filled with water
With a pickaxe, you will destroy a block of stone faster than using your hands
List of changes related to blocks:
If another block of grass is placed above one block of grass, the lower one will turn into a block of dirt
Leaves no longer cut through other blocks when growing trees with bone meal
If the anvil falls on the torch, it will drop
Increased resistance to explosions of walls made of stone slabs and cobblestones
When snow falls on another layer of snow, the lower one does not collapse
Changes in the redstone mechanisms of Minecraft 1.2.13
Almost every Minecraft PE player has ever tried to create some kind of custom mechanism. Redstone is a very convenient system that developers have created for players. At the moment, with the help of redstone blocks, you can create almost any mechanism. What has changed in MCPE 1.2.13?
Automatic chicken farms will continue to work without errors (do not know what it is? YouTube: Automated Chicken cookers)
Funnel and Dynamite trolleys no longer explode on blocks with activating rails
Daylight sensors no longer emit a redstone signal in the Nether World
Trolleys no longer get stuck driving on diagonal rails
With the help of the distributor, you can put the armor on the Armor Rack
Mob fixes in MKPE 1.2.13
Chickens no longer get stuck in the corner joints of fence blocks
Increased Slug spawn probability
Fixed a bug that caused mobs in trolleys to shake
From now on, horses become unmanageable at great depths
If you lead a Llama with a Lasso, other Llamas will line up in a caravan
Do you want to heal a Lama? Feed her wheat or seeds
Mobs are no longer stuck in closed doors
Spawn of mobs is prohibited on carpet blocks
Do you want rabbits to follow you? Pick up carrots or flowers
Fixed the behavior of Villagers during the rain
Fixed the animation of the Desiccant attack
Fixed spawn of witches inside huts
If the wolves can hide, they will stop running away from the Llama
Increased the probability of spawning Gasts in the Lower World of Minecraft Pocket Edition
Increased the probability of Ocelot spawn
Parrots will now jump off the shoulder correctly if the player dies
Parrots will no longer jump off the player when he gets into the boat
Iron players will no longer attack the player who spun them
Iron Golems will no longer spawn if mob spawn is disabled
Crafting changes in Minecraft PE 1.2.13
Enchanted golden apples can no longer be crafted (this does not apply to ordinary golden apples)
An empty bucket, a bucket of lava and water have been moved to another inventory tab in Minecraft Creative Mode.
These are far from all the changes, innovations and bug fixes in Minecraft Pocket Edition 1.2.13. Mojang developers have changed a huge number of errors in this release, but we have chosen the most important for you and designed it in a language that you understand. If you have any questions, you can always ask them in the comments.
Download Minecraft 1.2.13
Version 1.2.13
Working Xbox Live

Free login to your Xbox Live account is available. No restrictions.