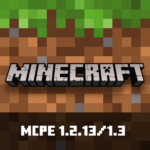 Minecraft PE 1.2.13 Beta
Download Minecraft PE 1.2.13 Beta APK for Android with a working xbox live account! Today we will give you this opportunity, because in the test build of Minecraft PE 1.2.13, a unique feature has appeared – an Experimental mode that allows you to activate future innovations. You can download the Beta version with an experimental mode right now, but first we will discuss all its features with you.
What's new in Minecraft PE 1.2.13.11?
Before you read a detailed description of the innovations in MCPE 1.2.13, we remind you that this build is a test, which is why you will not be able to connect to the servers of the regular version 1.2. Future new items from the Aquatic Update in Minecraft 1.2.13 beta build will not exactly correspond to the final update. At the moment, everything is at the stage of testing and refinement.
One of the most important details of Minecraft Pocket Edition 1.2.13 is the experimental gameplay, with which you can immerse yourself in the future world of MKPE 1.3. Most of the features have not been implemented yet, but players can already evaluate some of them.
How to activate experimental gameplay in MCPE 1.2 on Android?
To enable Experimental Gameplay, you need to go to the Settings and enable the "Use Experimental Gameplay" option. After that, your game world will be changed, so the game client will automatically create a copy of it with the prefix [EX]. What changes will EX make?
A new game mob – Drowned
Realistic swimming animation
From the Drowned, you can knock out a Trident, which has unique enchantment effects.
Wood can be cut with a simple blow with an axe
Added blocks of slabs and steps of the prismarine
Bugs fixed in Minecraft PE 1.2.13.11
In this update, a bug has been fixed, due to which, when activating the Experimental Minecraft Pocket Edition mode, items with names became nameless.
Fixes and bugs in MCPE 1.2.13.8
In the Minecraft PE 1.2.13 update, many bugs were fixed that interfered with a comfortable game. Fixed a bug that caused iron golems to ignore this rule when spawning mobs was disabled and still spawned. From now on, hiding one game world from friends will not hide the rest of the worlds from them. You can study the full list of changes below:
Smoke, rain and shadow particles are no longer visible through lava blocks
During the export of the new world, the Minecraft game client will warn you that you should not close the game during the export process
Buttons are no longer copied when pressed
Main changes in Minecraft 1.2.13 beta build
While working on the next version of Minecraft Pocket Edition, Mojang developers improved the stable operation of the game client, as well as fixed many errors that caused the game to "crash". We will provide you with the rest of the changes and bug fixes in the form of a list:
Abandoned mines are no longer generated on the surface of the earth
Hand tools will henceforth be displayed correctly in the player's hands (previously, the textures of objects were shaking)
The ladder blocks work correctly and players can stand on top of them without any problems
You can write more than one line of text on the plates
The player drowns in the water more slowly than before
Fixed a bug that caused the drawing range to work incorrectly
These are the main important fixes of Minecraft PE, which we decided to publish for you! There are other changes, but we have chosen the most important one for you.
This is a beta version. Make backup copies of the worlds.
Download Minecraft 1.2.13 Beta Beta
Version 1.2.13 Beta Beta
Working Xbox Live

Free login to your Xbox Live account is available. No restrictions.