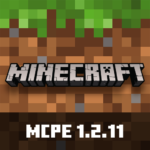 Minecraft PE 1.2.11
Download Minecraft PE 1.2.11 APK for Android with a working xbox live account! Some convenient functions have been added, a lot of bugs have been fixed, which we will tell you more about in this article. You can download Minecraft PE 1.2.11 at the end of this publication, but first we recommend reading the details of the update.
The main thing about the Minecraft 1.2.11.4 update
In early versions, players were unable to move full stacks of items to and from chests. With the use of Pocket UI, this problem does not manifest itself.
Increased the growth rate of seeds, grass, as well as other crops
Vines no longer hang in the air if they are not attached to any block
Incorrect operation of the pistons has been corrected: You will no longer encounter their accidental activation, this will allow you to build more reliable mechanisms.
The game achievement "Beam Me Up" can be unlocked
Changes in MCPE 1.2.11 for Android
In the map settings, you can activate and disable the PvP mode between players
Corrected the vertical acceleration of the view when using a game controller
Fixes related to game performance
Fixed a bug that caused the game to crash when firing any projectiles
Fixes for Minecraft PE gameplay errors 1.2.11.4
The harvest on the beds in Minecraft Pocket Edition 1.2.11.4 will now ripen significantly faster
During sleep, the player will be displayed correctly on the bed
Vines drop if there is no block nearby for which you can cling
Parallel moving trolleys on adjacent rails no longer collide
The icon of the Creator of the game world is now displayed at the top of the map
At the moment when the player is in the jump, the blocks are placed face up
The map of the Minecraft Pocket Edition game world can now be held simultaneously in 2 hands at once
Fixes: Redstone in MKPE
Fixed the pistons, now the mechanisms will stop collapsing randomly
Blocks of slime, as well as sticky pistons no longer stick to comparators in Minecraft PE
Extinguished Redstone Torches will not light up until they are updated or re-installed.
Mob-related errors
Reduced Creeper explosion radius
Fixed taking fall damage for Edge Wanderers. Ender's Pearl Farms are working as before
Other bug fixes in Minecraft PE 1.2.11
The crafting recipe book has been fixed: the correct number of colored wool blocks is now displayed
The menu of the Creative mode of Minecraft PE 1.2.11 has been improved, it is now easier to manage inventory
Xbox One lets you use the Menu button to bring up a quick list of console commands
Download Minecraft 1.2.11
Version 1.2.11
Working Xbox Live

Free login to your Xbox Live account is available. No restrictions.