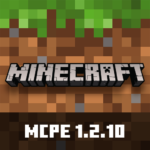 Minecraft PE 1.2.10
Download Minecraft PE 1.2.10 APK for Android with a working xbox live account!
This allows everyone to connect to any server without any effort. But in Minecraft PE 1.2.11, everything has changed: free authorization without a MCPE license has become impossible. That is why downloading Minecraft PE 1.2.10 is simply necessary for a comfortable game on Xbox Live servers for free!
Why should everyone download Minecraft PE 1.2.10 on Android? It's very simple! At the time of writing this article, this is the most popular build of the game, which also gives unlimited access to Xbox Live to play on MCPE servers.
In the Minecraft Pocket Edition 1.2.10.2 update, some changes were also made to the game. Among them: in the settings of the World, the settings have changed, allowing you to change the distance of drawing the map. In this version, the range of the drawing range has been increased, now you can set an incredibly long range on especially powerful devices, and on the contrary, reduce it to the required values on weak devices.
Download Minecraft 1.2.10 [XBOX LIVE]
Version 1.2.10 [XBOX LIVE]
Working Xbox Live

Free login to your Xbox Live account is available. No restrictions.