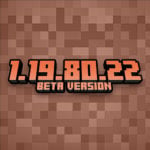 Minecraft PE 1.19.80.22
Download Minecraft PE 1.19.80.22 APK for Android with a working xbox live account! The developers have released a test version of Minecraft 1.19.80.22 on Android. In this update, a Calibrated Acoustic sensor was added, Experimental functions were changed, 7 changes were made and 12 errors were corrected.
Calibrated acoustic sensor
A new block. Features:
Filters vibrations by frequency
Crafting: 1 Acoustic sensor and 3 Amethyst Shards
One side of the block receives the Redstone signal
The strength of the Redstone signal is the only frequency to which the sensor responds
Experimental functions
Made changes to the capabilities. Read more:
Resonant vibration

Changed the behavior of Amethyst blocks next to Acoustic sensors
The amethyst block will emit the frequency of the acoustic sensor if the sensor receives vibration
It is used to transmit vibration over distances without the need to create vibration repeatedly
Signs

The text can be changed after installation
Both sides have separate colors and text
To change the text and color of the reverse side, you need to interact with this side
When using Honeycomb, you cannot change the text
Archaeology

Added Ruins of the trail — a new structure
Added Suspicious sand and gravel to Underwater Ruins
Added 16 more types of Clay fragments (20 in total)
Fixed cleaning with a Brush
Cherry groves

Added petal particles
Fixed the sounds of adding petals
Changes
Made 7 changes. The main thing:
The Potion color changes from the last update were returned due to errors
The flight is disabled when flying into the opening, 1.5 blocks high
Added a wish list to the In-game market
Mobs on incomplete blocks take Fire damage again
Added a new type of wastewater separation
Updated the design of the Xbox login buttons
Fixed bugs
Fixed 12 bugs. The main thing:
Fixed the camera when sprinting and swimming
Fixed collisions with a new type of Squat
A block of moss appears in a Shipwreck Chest
Fixed Funnel textures
Fixed the display of text on the Plates when RTX is enabled
Fixed the menu of their resource sets
Fixed interface errors
Technical changes
Added 8 technical changes for addon development and testing.
This is a beta version. Make backup copies of the worlds.
Download Minecraft 1.19.80.22 Beta
Version 1.19.80.22 Beta
Working Xbox Live

Free login to your Xbox Live account is available. No restrictions.

Working servers without Xbox Live

To log in to the server, you no longer need to log in to your Xbox Live account. You can simply change your nickname and start the game on the server.
Official Changelog