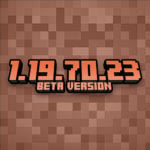 Minecraft PE 1.19.70.23
Download Minecraft PE 1.19.70.23 APK for Android with a working xbox live account! The developers have released a test version of Minecraft 1.19.70.23 on Android. In this update, bugs have been fixed and changes have been made. Details are coming soon.
Archaeology
Added new features. More details:
Brush
Decorated pot
Clay fragments
Pattern with hands
Skull Pattern
A pattern with a prize
Pattern with an archer
Suspicious sand
Suspicious sand appears in a Deserted temple and well
Brush
A subject for archaeology. The main thing:
It is used for cleaning Suspicious sand and searching for objects
Decorated pot
Decorative element. Features:
It is made from Clay fragments of 4 types
To craft 1 Pot, you need 4 different Clay fragments
Each Clay fragment has one of four patterns
You can take Bricks to craft a Pot, but the sides of the Brick will not have patterns
When the block breaks, the block itself falls out by hand
When the block is broken by the tool, Clay fragments fall out
Suspicious sand
A block for the desert. Main:
Appears in a Deserted Temple and Well
Hard to detect
Easy to break
It is cleaned with a brush to obtain archaeological finds
Sniffer
A new mob of the game world. Important:
The winner of the vote for a new mob on Minecraft Live 2022
The first official dinosaur
You can't tame or bait
Passive-friendly mob
Looking for seeds
Propagated by a flare flower
Torch Flower
A new plant. Features:
Grown in the Garden
Used for breeding Sniffers
You can get a dye
Changes
Made 4 changes. Information:
Item replacement animation appears when replacing identical items with the same strength
Fixed the flickering of the loading screen in Virtual Reality mode
Villagers emit particles of anger when taking damage outside the Village
Young Horses can have greater speed, jump and health than their parents
Equality of versions
Added 2 changes to Java and Bedrock Equality. Interesting:
Funnels accept objects even after disconnecting from Red dust
The sounds of the Gasts weaken as they move away from the player
Fixed bugs
Fixed 6 bugs.
Fixed the binding of the Leash on the Leash
The sounds of the Button and Lever are changed by the slider "Blocks"
Crossbows do not remain loaded after firing
Horses should not be pushed over a fence with a carpet on top
Fixed the worlds editing screen
Technical changes
Added 6 technical changes for addon development and testing.
This is a beta version. Make backup copies of the worlds.
Download Minecraft 1.19.70.23 Beta
Version 1.19.70.23 Beta
Working Xbox Live

Free login to your Xbox Live account is available. No restrictions.

Working servers without Xbox Live

To log in to the server, you no longer need to log in to your Xbox Live account. You can simply change your nickname and start the game on the server.
Official Changelog