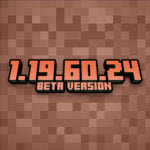 Minecraft PE 1.19.60.24
Download Minecraft PE 1.19.60.24 APK for Android with a working xbox live account! The developers have released a test version of Minecraft 1.19.60.24 on Android. In this update, Experimental features have been improved, 2 changes have been made and 10 bugs have been fixed.
Experimental functions
Made 1 change. Property:
The carved bookshelf is replenished when Books are added to the connected Funnel or Ejector
Changes
Added 2 changes. The main thing:
The annoyants display objects of the left hand
When you click the news button, a transition window will be displayed
Fixed bugs
Fixed 10 bugs. Read more:
Slugs and Magma cubes will not spawn in an area of 2 blocks in height or less
Raids start correctly when a player enters a village with a Bad mark while hovering or riding
Fixed damage to things during mob attacks
Funnels do not stop working when throwing out different things
Horses cannot be pushed over a Fence with a carpet on top
The hitboxes of the Harassers are shifted to the center of the model
The annoyants got a different animation in the absence of things in their hand
Eli and the Harasser are properly sitting on the Boat and Trolley
Fixed moving items from the Creative Mode inventory to the user's inventory
Fixed touch control when moving forward and moving sideways
Technical changes
Added 3 technical changes for addon development and testing.
This is a beta version. Make backup copies of the worlds.
Download Minecraft 1.19.60.24 Beta
Version 1.19.60.24 Beta
Working Xbox Live

Free login to your Xbox Live account is available. No restrictions.

Working servers without Xbox Live

To log in to the server, you no longer need to log in to your Xbox Live account. You can simply change your nickname and start the game on the server.
Official Changelog