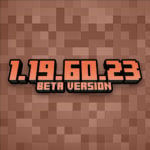 Minecraft PE 1.19.60.23
Download Minecraft PE 1.19.60.23 APK for Android with a working xbox live account! The developers have released a test version of Minecraft 1.19.60.23 on Android. In this update, the Carved Bookshelf was changed, 1 change was added and 10 errors were fixed.
Experimental mode
Made 1 update. Read More:
The carved bookshelf does not activate the Observer when loading the world
Changes
Made 1 change. Features:
Glowing squid emits particles when spawning out of water
Fixed bugs
Fixed 10 bugs. The main thing:
The charge of the Rebirth Anchor is not preserved when destroyed with the "Silk Touch" enchantment or when picked up
Scaffolding emits particles and vibrations when the block beneath them collapses
The sound of a Racing Screamer is heard on 32 blocks
Bamboo sapling does not replace tall plants when installed
Bonfires do not set players or mobs on fire and do not destroy Trolleys or Boats
Pearl Edge does not teleport sleeping players
When riding a Horse, Mule or Donkey, you cannot see through the blocks
Fixed the display of blocks without support that require supporting blocks
Destroyers attack on partial blocks, such as Dirt
In the Structural Block, the text field for Y can be selected with the keyboard
Technical changes
Added 12 technical changes for addon development and testing.
This is a beta version. Make backup copies of the worlds.
Download Minecraft 1.19.60.23 Beta
Version 1.19.60.23 Beta
Working Xbox Live

Free login to your Xbox Live account is available. No restrictions.

Working servers without Xbox Live

To log in to the server, you no longer need to log in to your Xbox Live account. You can simply change your nickname and start the game on the server.
Official Changelog