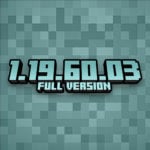 Minecraft PE 1.19.60.03
Download Minecraft PE 1.19.60.03 APK for Android with a working xbox live account!  The developers have released a new release of Minecraft 1.19.60.03 on Android. In this update, Experimental features have been updated, 40 changes have been made for version equality and 74 bugs have been fixed.
Experimental functions
We have made 11 changes. For the functions to work, you need to enable the slider. Read more:
Mob heads on Musical blocksThey play mob sounds when a player uses a block or connects a Redstone
Piglin 's Head
Drops out at death from a Charged Creeper
Works with the Music block
When wearing or connecting a Redstone, Piglin's ears pop
Bamboo Block
Crafting: 9 Bamboo
A hewn Bamboo block is also available.
You can create 2 Bamboo slabs
Equality of versions
Added 40 changes to Java and Bedrock Equality. Interesting:
Added spawn eggs of the Edge Dragon, Desiccant, Iron and Snow Golems
The saddle is put on tamed creatures
Works when ejected from the Distributor
Endermen, Skeletons and Desiccant Skeletons spawn at lighting level 7 and below in the Lower World
Cadavers pass through the opening in two blocks, and Cadavers-children — through in 1 block
Bonfires do not set fire to creatures and do not break Trolleys and Boats
The particles of the Lighthouse and the Sea Guide are now transparent
Changed the sounds of opening and closing Wooden blocks
Added sounds for Pressure plates and Wooden buttons
Changed the colors of the blocks on the Map in Minecraft
Fixed bugs
Fixed 74 errors. The main thing:
Fixed the passage of mobs and the passage through the Gates of the Edge
Reduced the number of departures and crashes
Fixed visibility through blocks in certain situations
The Pearl of the Edge does not teleport sleeping players
The levers have the sounds of Stone buttons
Fixed the use of Touch control
Technical changes
Added 57 technical changes for addon development and testing.
Download Minecraft 1.19.60.03
Version 1.19.60.03
Working Xbox Live

Free login to your Xbox Live account is available. No restrictions.

Working servers without Xbox Live

To log in to the server, you no longer need to log in to your Xbox Live account. You can simply change your nickname and start the game on the server.