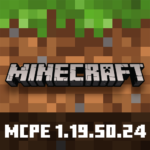 Minecraft PE 1.19.50.24
Download Minecraft PE 1.19.50.24 APK for Android with a working xbox live account! The developers have released a beta version of Minecraft 1.19.50.24 on Android. In this update, the Annoyance model has been redesigned and 5 bugs have been fixed.
Changes
Made 1 change. Updated the model and texture of the Annoyance in Minecraft. Now it's easier to hit it.
Fixed bugs
Fixed 5 bugs. Interesting:
The retracting Piston does not pull players to the other side of the wall;
Bees with nectar increase the level of honey in Hives;
Improved keyboard operation at the time of flight;
Double-clicking on the "Space bar" correctly disables the flight mode;
In the creative inventory, items are reset when dragged to another item;
The /execute align xyz entity command does not cause the game to crash;
Technical changes
Added 1 technical change for addon development and testing.
This is a beta version. Make backup copies of the worlds.
Download Minecraft 1.19.50.24 Beta
Version 1.19.50.24 Beta
Working Xbox Live

Free login to your Xbox Live account is available. No restrictions.