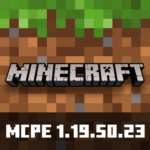 Minecraft PE 1.19.50.23
Download Minecraft PE 1.19.50.23 APK for Android with a working xbox live account! The developers have released a beta version of Minecraft 1.19.50.23 on Android. In this update, Experimental features have been improved, 4 changes have been made and 12 bugs have been fixed.
Experimental functions
We have made 17 changes and corrections to the experimental mode. Basic:
Changed the name of the new transport from "Bamboo raft with chest" to "Raft with chest"
When dismounting from a Raft with a chest, the correct hint is displayed
Improved the display of buttons when hanging Hanging plates
Hanging signs attached to the side do not prevent mobs from passing
Players cannot ride Camels in the water
Improved animations of sitting Camels at the time of loading the world
Camels climb one and a half blocks without jumping
Hanging plaques do not replace the Dispute about flowers and Dropper
Hanging plaques are not attached to bamboo seedlings
When two Bamboo Mosaic Tiles are destroyed on top of each other, players get the same blocks back
Bamboo seedlings break when interacting with a piston on them
Chain command blocks work even if the delay in ticks is greater than 0
Fixed the sound volume of the Hanging plates
Changes
Made 4 changes. More detailed:
Added D3D12 support for embedded/dedicated Intel driver graphics
The frame of the stack counter has turned white in Minecraft
The Nameplate menu closes when entering Viewer Mode
Fixed bugs
Fixed 12 bugs. Important:
Ordinary boats and Boats with Chests do not teleport to the zero coordinate when pushed by a Piston
Fixed chunks mixing when updating worlds created before 1.18
Books with a pen can be signed and closed
Fixed a bug with an error when trying to connect to Realms, which was empty for several minutes
Items with mobs inside do not slow down performance
The entry and exit of things from the Funnel does not slow down the game on the servers
Fixed the blurring of the "Dismount" button
Items are returned to inventory in Creative mode
Corrected the text of the message about death from a mob with an item with a changed name
The pressure plate is unclenched when the standing player switches to Spectator Mode
Technical changes
Added 6 technical changes for addon development and testing.
This is a beta version. Make backup copies of the worlds.
Download Minecraft 1.19.50.23 Beta
Download Minecraft 1.19.50.23 (xbox+ servers)
Version 1.19.50.23 Beta
Working Xbox Live

Free login to your Xbox Live account is available. No restrictions.
Official Changelog