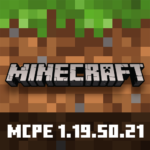 Minecraft PE 1.19.50.21
Download Minecraft PE 1.19.50.21 APK for Android with a working xbox live account! The developers have released a beta version of Minecraft 1.19.50.21 on Android. We added Bamboo blocks, a Bamboo raft, Camels, Carved bookshelves, a hanging plaque.
This is the first update with elements from Minecraft 1.20.
Experimental functions
The experimental mode slider was returned. All new blocks, mobs, items are available only when Experimental Functions are activated.
Bamboo Blocks
Expanded the possibilities of Bamboo. More detailed:
Bamboo wood blocks were added: Boards, Door, Hatch, Sign, Steps, Plate, Fence, Gate, Button, Pressure plate
Added a Bamboo raft and a variant with a Chest
Camel
Desert mob. Features:
Added basic animal features
Can make a Jerk
Randomly stops and sits down to rest
May appear in Deserted villages
Seated characters cannot be reached by melee monsters
Carved Bookshelf
A bookshelf that you can interact with. Interesting:
It is made of 6 Boards and 3 Wooden slabs
Stores books
– You can put all kinds
– Holds 6 pieces
The comparator can pick up the Red dust signal
– When a player puts or takes a Book
Hanging plate
A sign that can be hung. Worth knowing:
You can put it under the block and on the side
– Can be installed even under narrow blocks
There are options from different trees
There will be a special interface at the time of writing the text
Not in experimental mode
The changes below are available even without turning on the experimental mode slider.
Equality of versions
Added 6 changes for version equality. Read more:
While playing tag, little villagers run faster
Updated sounds
– Opening and closing of Doors and Hatches
– Button Clicks
– Common sounds of Distorted and Crimson Clouds
Fixed bugs
Fixed 7 bugs. Important:
Removed the delay from the attack and interaction buttons
A shot from a loaded Crossbow occurs without delay
Improved the operation of the joystick and the Automatic run button
Fixed dragging of objects on the Anvil screen
The coordinate copy key on the keyboard works correctly
Players no longer get stuck on the world loading screen when teleporting
Temporarily canceled one fix of the previous version
– Animals get effects from their parents again
Technical changes
Added 14 technical changes for addon development and testing.
This is a beta version. Make backup copies of the worlds.
Download Minecraft 1.19.50.21 Beta
Version 1.19.50.21 Beta
Working Xbox Live

Free login to your Xbox Live account is available. No restrictions.

Working servers without Xbox Live

To log in to the server, you no longer need to log in to your Xbox Live account. You can simply change your nickname and start the game on the server.
Official Changelog