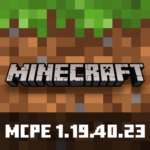 Minecraft PE 1.19.40.23
Download Minecraft PE 1.19.40.23 APK for Android with a working xbox live account! The developers have released a beta version of Minecraft 1.19.40.23 on Android. The update made 4 changes, 5 points for equality of versions and fixed 15 errors.
Changes
Made 4 changes. The main thing:
Viewer Mode
– The audience is invisible to other players
– The spectator does not affect the disappearance of mobs if there are players not in Spectator mode
– The disappearance of mobs is suspended if there are only Viewers on the server
The inventory button moves to its place after closing
NPC names can be hidden
Equality of versions
Made 4 changes for Bedrock equality with Java. Important:
If you die from a mob with a renamed weapon, a message about death from this weapon will appear in the chat
Desiccant Skeletons spawn on Desiccation Roses in Minecraft
Swimming spends less hunger
Librarians sell Enchanted Books with "The Curse of Loss" and "The Curse of Binding"
Fixed bugs
Fixed 15 bugs. Read more:
Schalker's projectile does not pursue the Viewer
Death messages always fit into the screen
The search box in the crafting menu is saved again
The strength of the item is displayed in the inventory on Xbox
The text on the new world creation button appears on all platforms
Items are removed from the Quick Access inventory when dragged to others in Creative Mode
Aligned the split rate indicator on touch devices
The creature in the Boat and the Boat itself do not move through dimensions
The enchantment table turns to the nearest player
Fixed the display of prices in the In-game market after purchase
Tweaked the effects icons and touchpad
Explosions do not lead to failures
Exiting split screen mode does not cause a crash
Technical changes
Added 9 technical changes for addon development and testing.
Added the /execute in command
Added the command /execute anchored
This is a beta version. Make backup copies of the worlds.
Download Minecraft 1.19.40.23 Beta
Version 1.19.40.23 Beta
Working Xbox Live

Free login to your Xbox Live account is available. No restrictions.

Working servers without Xbox Live

To log in to the server, you no longer need to log in to your Xbox Live account. You can simply change your nickname and start the game on the server.
Official Changelog