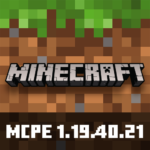 Minecraft PE 1.19.40.21
Download Minecraft PE 1.19.40.21 APK for Android with a working xbox live account! The developers have released a beta version of Minecraft 1.19.40.21 on Android. The update added 12 changes and 5 fixes. You can drown in the Sand of showers and Mud.
Changes
Added parameters for the /summon command. Read more:
//summon [ spawnPos : x y z] [yRot: float] [xRot: float] [spawnEvent: string] [nametag: string]
– spawnPos — spawn coordinates
– yRot and xRot — rotation of the creature relative to Y and X
– spawnEvent — events when the creature spawns
– nametag — name of the entity
Equality of versions
Made 11 changes for Bedrock equality with Java. Important:
Water fog is displayed in Viewer Mode
Sweet berries are planted on the beds
Changed the pressure strength of the Column of bubbles
Changed the collision of a Grass path and a garden bed
Players Drown in Sand Showers and Mud
Mud textures do not cover the player's screen when floating over a block
Shells in the Mud will not constantly shake
Amphibious mobs are better looking for a way through Mud Blocks in Minecraft
Ravagers take damage from the Jaws of the Summoner
Increased the speed and hitbox of the Ravagers
Fixed bugs
Fixed 5 bugs. The main thing:
You can not get damage from falling on the Hatch on the Column of bubbles
Mobs with a large attack radius do not deal damage through walls
Fixed dropping items in the crafting menu or the inventory of sled animals
Death messages are not displayed when the display is disabled in the settings
This is a beta version. Make backup copies of the worlds.
Download Minecraft 1.19.40.21 Beta
Version 1.19.40.21 Beta
Working Xbox Live

Free login to your Xbox Live account is available. No restrictions.

Working servers without Xbox Live

To log in to the server, you no longer need to log in to your Xbox Live account. You can simply change your nickname and start the game on the server.
Official Changelog