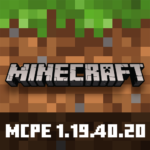 Minecraft PE 1.19.40.20
Download Minecraft PE 1.19.40.20 APK for Android with a working xbox live account! The developers have released a beta version of Minecraft 1.19.40.20 on Android. The update made 11 changes and 27 fixes. Touch control has become even better.
Touch control has been updated
Added 7 touch control improvements. More detailed:
Added the ability to change the display of touch controls in the "Touch" section
Automatic jump helps to jump out of the water near the shore
In creative mode, the reaction of the game to the breakdown of the first block was slowed down
Added support for dragging things with touch gestures in the inventory
Improved the ability to separate stacks in the inventory
Double-pressing the shutter button disables the flight mode
Changed the location of the state effects
Equality of versions
Made 4 changes for Bedrock equality with Java. Important:
Players in Spectator Mode do not reset experience spheres at death
Players in Spectator mode do not lose a level at death in Minecraft
When killing a player with an item with a changed name, the name of the item will be displayed in the chat
Grass in different biomes displays the correct color
Fixed bugs
Fixed 27 bugs. Interesting:
Mobs will not spawn in the Ancient City
The names of the NPCs are shown only when looking at them
Falling blocks do not break when landing on two plates in one block
Using the keyboard, you can run diagonally
The red dust circuits give the correct signal
Sticky pistons work correctly all over the world
The names of the players are displayed correctly and do not go out of bounds
The water textures of the swampy blocks do not look bright when placed under other blocks
Fixed problems with screen position on Android devices
A child villager accepts flowers from Iron Golems
Guardians don't float in the air
Tamed mobs correctly follow the player through the Nether World portal
Snowy versions of Villagers will appear in the bios of the Mountain Grove
The text is correctly voiced when the player dies
Fixed the work of achievements in the worlds from the blanks
Boats do not disappear when pushed through the portal of the Lower World
Technical changes
Added 14 technical changes for addon development and testing. Important points:
Improved teleportation using commands
The ability to replace blocks has been added to the team /mining
Added the commands "/execute rotated" and "/execute rotated as"
This is a beta version. Make backup copies of the worlds.
Download Minecraft 1.19.40.20 Beta
Version 1.19.40.20 Beta
Working Xbox Live

Free login to your Xbox Live account is available. No restrictions.

Working servers without Xbox Live

To log in to the server, you no longer need to log in to your Xbox Live account. You can simply change your nickname and start the game on the server.
Official Changelog