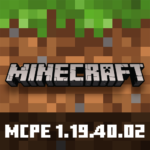 Minecraft PE 1.19.40.02
Download Minecraft PE 1.19.40.02 APK for Android with a working xbox live account! The full version of Minecraft 1.19.40.02 on Android. The update added 21 changes, 4 improvements for version equality and fixed 61 bugs.
Equality of versions
Made 4 changes for Bedrock equality with Java. Important:
Changed the strength of the Bubble Pillars
Swimming spends less hunger
The Ravager attacks with a large radius
The Ravager moves faster
Changes
Added 21 changes. Some of them were already in test versions. Important:
When killing with a renamed weapon, the name of the item is displayed in the chat
If a mob kills with a renamed weapon, the name of the item is shown on the death screen
Mobs don't appear in the Ancient City
Sweet berries can be planted on the beds
The jaws of the Summoner deal damage to the Ravager
From librarians you can buy books of enchantment "The Curse of Disappearance" and "The Curse of Binding"
Players can fall into the Sand of Souls and Dirt
The Spheres of experience do not fall from the Audience after death
The audience displays underwater fog
The audience does not make sounds when entering or exiting the Column of bubbles
Ordinary players don't see the Audience
The appearance and disappearance of mobs does not depend on the players in Spectator Mode
Added the "Clear Cache" button in the storage settings to reset In-game market data
Improved and updated the display of effects in Minecraft
Updated the appearance of touch control schemes in the settings
Fixed bugs
61 errors have been corrected. Most of them were transferred from the test versions. The most interesting and new:
Fixed crashes when using Spawn Eggs in peaceful worlds on PlayStation 4
Fixed the crash of the game at the time of the explosion
Fixed the display of prices in the In-game market
Tamed mobs pass through the portal to the Lower World again
Fixed the abrupt disappearance of the beam from the Lighthouse at a distance
Fixed numerous inventory errors
Fixed and improved the operation of the touch control in the inventory
The list of trade with residents scrolls without problems
Automatic jump helps to get out of the water on land
Double-tapping down disables flying in Creative mode
Guardians don't fly in the air
Villagers can take a flower from an Iron Golem
Arrows and Tridents are moving again
Technical changes
Added 47 technical changes for addon development and testing.
Download Minecraft 1.19.40.02
Version 1.19.40.02
Working Xbox Live

Free login to your Xbox Live account is available. No restrictions.

Working servers without Xbox Live

To log in to the server, you no longer need to log in to your Xbox Live account. You can simply change your nickname and start the game on the server.