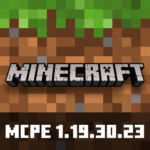 Minecraft PE 1.19.30.23
Download Minecraft PE 1.19.30.23 APK for Android with a working xbox live account! The developers have released a beta version of Minecraft 1.19.30.23 on Android. In the update, 9 usual and 6 technical changes were made, and 12 errors were also fixed.
Changes
Added 6 changes. Features:
When you release the on-screen joystick, the Sprint button disappears
Returned the missing set settings button on the World Creation Screen
Added a new message about the departure from the server
Added the "Insert" button to the Command Block menu
Updated Splashes in the main menu
– Splashes — yellow inscriptions on the main screen
Added a switch to display the names of NPCs on hover
Equality of versions
Made 3 changes for Bedrock equality with Java. Important:
Raincoats and burning in a Lava Cauldron are not displayed in Spectator Mode Gorenje.
Drowned people spawn in Warm oceans
Fixed bugs
Fixed 12 bugs. The main thing:
Fixed Flag spawn in new structures
Player textures and interface elements do not turn pink after a long game on the server
It is impossible to see the inside of the upper layer of snow when approaching on Eliters
Name tags in Minecraft do not shift
Resuming the game does not result in a crash on Xbox
The sprint button turns on even when standing still
The Enderman teleports within a radius of 32 blocks so as not to disappear
Fixed gaps in messages
Cloud worlds are deleted when local worlds are deleted
This is a beta version. Make backup copies of the worlds.
Download Minecraft 1.19.30.23 Beta
Version 1.19.30.23 Beta
Working Xbox Live

Free login to your Xbox Live account is available. No restrictions.

Working servers without Xbox Live

To log in to the server, you no longer need to log in to your Xbox Live account. You can simply change your nickname and start the game on the server.
Official Changelog