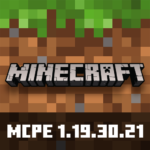 Minecraft PE 1.19.30.21
Download Minecraft PE 1.19.30.21 APK for Android with a working xbox live account! The developers have released a beta version of Minecraft 1.19.30.21 on Android. In this update, we added coordinate copying, made 8 changes and fixed 7 errors.
Copying coordinates
Added keyboard shortcuts to copy player or block coordinates. More detailed:
To work, you need to enable the setting "Enabling the user interface for copying coordinates"
Ctrl+Alt+C — copy coordinates
Ctrl+Alt+X — copy block coordinates
Changes
Added 1 change. Features:
Added waterlogging for the /structure command and in the Structural Block menu
Equality of versions
Made 7 changes for Bedrock equality with Java. Important:
Parrots get off the shoulder when switching to Spectator Mode
Mobs do not follow and do not try to ride on the Viewer
The "Icy Tread" enchantment does not work on the Viewer
The light block does not disappear when installing the Armor Rack on top
Changed the size of Piglin's hitbox and I'll look into Minecraft
Changed the names of structures when using the /locate command
– Added an underscore, for example, ancient_city is used instead of ancient city
Fixed bugs
Fixed 7 bugs. The main thing:
Pressing Ctrl and Alt at the same time does not cause the Alt key to stick
Iron grating and White glazed ceramics are again available in the Creative Inventory and are extracted with the help of teams
The tried-on clothes on the Miniature do not fall off before leaving the Dressing room
Sea grass and Kelp do not belong to Coral decorations in the Creative Inventory
The fire when gorenje player does not cross the held items
Technical changes
Added 3 technical changes for addon development and testing. The game does not crash when viewing the In-game market.
This is a beta version. Make backup copies of the worlds.
Download Minecraft 1.19.30.21 Beta
Version 1.19.30.21 Beta
Working Xbox Live

Free login to your Xbox Live account is available. No restrictions.

Working servers without Xbox Live

To log in to the server, you no longer need to log in to your Xbox Live account. You can simply change your nickname and start the game on the server.
Official Changelog