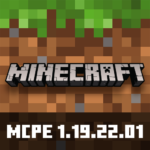 Minecraft PE 1.19.22.01
Download Minecraft PE 1.19.22.01 APK for Android with a working xbox live account! The developers have released the full version of Minecraft 1.19.22.01 on Android. In this update, we fixed 3 major errors that appeared to all users.
The creators released two versions simultaneously: release 1.19.22.01 and beta 1.19.30.25. The release still fixes bugs that occur to all users, especially on Xbox.
Most likely, there will be more files in future versions, since music will be included there so that players do not download it all manually.
Fixed bugs
Fixed 3 bugs. Read more:
Fixed crashes when loading worlds with texture packs enabled
Fixed deleting cloud worlds when deleting local ones on Xbox
Storages in Minecraft are not displayed full if there is space on the Xbox
Download Minecraft 1.19.22.01
Version 1.19.22.01
Working Xbox Live

Free login to your Xbox Live account is available. No restrictions.

Working servers without Xbox Live

To log in to the server, you no longer need to log in to your Xbox Live account. You can simply change your nickname and start the game on the server.