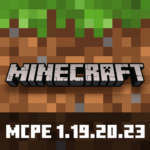 Minecraft PE 1.19.20.23
Download Minecraft PE 1.19.20.23 APK for Android with a working xbox live account! The update added 3 changes, 20 fixes and 5 technical changes.
Changes
Added 3 changes to the game world. Read more:
5 experience drops from the Rolling Catalyst instead of 20
In Ancient cities , Rolling Pin sites are more often generated
Instant effects from Potions and Arrows cannot be applied to dead mobs and players
Fixed bugs
Fixed 20 bugs. Interesting:
The textures of the interface and players will not turn pink on servers with a large number of players
The gamepad cursor moves correctly in the Minecraft menu
You can create a bonfire from Mangrove wood
Improved generation of Rolling Pin sections on some blocks
The player does not take damage when passing through the portal of the Lower World at level Y = -21 and below
The track "So Below" plays in Basalt deltas
The score on the Score Table is displayed correctly
Items do not fall off the Hook of the Fishing Rod when using the /kill command
Speshik and Bees get stuck in incomplete blocks less
The Keeper may notice a player sneaking around the Acoustic Sensor
The guardian can jump from a height of 20 blocks instead of 3
Speshik picks up armor with different strength
The player's speed changes correctly on the Sand.
The user's health is displayed correctly
Fixed the failure of loading mobs if they were above the Y = 25 level
When trading with Residents, the correct sounds are played
Fixed the generation of Skulls in Ancient cities
This is a beta version. Make backup copies of the worlds.
Download Minecraft 1.19.20.23 Beta
Version 1.19.20.23 Beta
Working Xbox Live

Free login to your Xbox Live account is available. No restrictions.

Working servers without Xbox Live

To log in to the server, you no longer need to log in to your Xbox Live account. You can simply change your nickname and start the game on the server.
Official Changelog