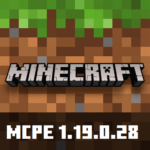 Minecraft PE 1.19.0.28
Download Minecraft PE 1.19.0.28 APK for Android with a working xbox live account! The update added a Viewer Mode switch, a Music record 5, 12 changes and fixed 29 errors.
Viewer Mode
Added an experimental switch. More detailed:
Still in development
Mobs don't run away from players
Does not trigger the tension sensor
Music record 5
Added a new music record. Features:
It is created from 9 Fragments of the plate 5
Fragments rarely appear in the Chests of Ancient Cities
Equality of versions
We have made 5 changes to make Bedrock equal with Java.
Updated the appearance of Mangrove foliage
Increased the explosion resistance of the Rolling-catalyst and the Rolling-shriker
Fixed Shakirov's spawn
Shalkers have received immunity to fire and sit properly in transport
Changes
Added 12 changes. Important:
Improved the sound attack of the Guardian- Correctly discards the target- Deals 10 damage instead of 30- Reduced the recharge from 5 seconds to 2- Damage passes through armor and Shield- When a player dies, a new message appears in the chat
After the death of the Keeper, a Scalping Catalyst drops out
Added a new Rush throw sound
Frog caviar develops over time
Added the replace entity parameter for the /loot command
The Keeper's anger grows with frequent use of projectiles
– Reacts to Arrows and other projectiles
Fixed bugs
Fixed 29 bugs.
This is a beta version. Make backup copies of the worlds.
Download Minecraft 1.19.0.28 Beta
Version 1.19.0.28 Beta
Working Xbox Live

Free login to your Xbox Live account is available. No restrictions.

Working servers without Xbox Live

To log in to the server, you no longer need to log in to your Xbox Live account. You can simply change your nickname and start the game on the server.