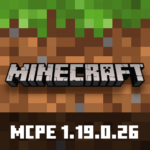 Minecraft PE 1.19.0.26
Download Minecraft PE 1.19.0.26 APK for Android with a working xbox live account! The update improved the behavior of the Keeper, made 3 changes, 22 fixes and 9 technical changes.
Keeper
Improved the behavior of the mob. More detailed:
Added a sound attack
– Deals damage from a distance
– Discards the target
Does not sniff if there is a goal
Mobs can repel the Guardian
If it senses the target, it is not buried
Angry at the mob when it collides
Changing the game mode during the battle with the Keeper does not lead to failures
The right amount of experience drops out
Changes
Added 4 changes. Important:
Added music for the "Wild Update"
The structures of the Ancient City correspond to the Java version
Tadpoles are lured by Slime in Minecraft
Echo Fragments appear in the Chests of the Ancient City
Fixed bugs
Fixed 22 bugs. Interesting:
Frogs make new sounds when taking damage
Fixed the sound of a broken Frog light
Improved the button for interacting with the Speaker
The Desiccant and the Edge Dragon do not destroy the Reinforced Deep Shale
The reinforced deep slate was moved to another tab of the creative inventory
The steps, the Slab, the Clay Brick Wall were grouped correctly
A rectangle of Reinforced deep slate is generated in the center of the Ancient City
The block of light cannot be destroyed in water
Mangrove roots and appendage can be used in a composter
Most plants can be put on Mud and Dirty Mangrove Roots
Mangrove roots can be generated through Snow
Improved the touch control joystick
Updated the textures of the icons of the Boat and the Boat with the chest to match the Java version
The lantern of souls will not spawn in the air of the Ancient city
Fixed a crash when using a Material Reducer in an Educational publication
Technical changes
Added 9 technical changes for addon development and testing.
This is a beta version. Make backup copies of the worlds.
Download Minecraft 1.19.0.26 Beta
Version 1.19.0.26 Beta
Working Xbox Live

Free login to your Xbox Live account is available. No restrictions.

Working servers without Xbox Live

To log in to the server, you no longer need to log in to your Xbox Live account. You can simply change your nickname and start the game on the server.
Official Changelog