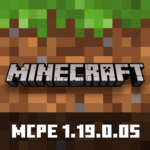 Minecraft PE 1.19.0.05
Download Minecraft PE 1.19.0.05 APK for Android with a working xbox live account! The update added the Guardian, Rush, Spectator Mode, new biomes, blocks and items.
What's new?
The release added all of the test versions. Details in the main article on Minecraft 1.19.
Biomes
– Gloomy depths
– Mangrove swamps
Mobs
– Guardian (Varden)
– Frog
– Tadpole
– Speshik (Elay)
Blocks
– Racing blocks
– Mangrove blocks
– Mud
– Frog Lamp
Items
– Boat with a Chest
– Goat Horn
– Recovery Compass
– Echo Fragment
New music
– New touch control
– Viewer Mode
– It only works when the Experimental mode is turned on
New achievements
Added 4 new achievements in Minecraft. More detailed:
It spreads — kill the mob next to the Rock Catalyst
Birthday Song — let the Rush throw the Cake on the Music block
Together — collect all three Frog lamps in the inventory
Absolute elusiveness — sneak next to the Acoustic sensor so that it does not work
Fixed bugs
Fixed 45 bugs. The developers have moved everything from the previous test versions.
Download Minecraft 1.19.0.05
Version 1.19.0.05
Working Xbox Live

Free login to your Xbox Live account is available. No restrictions.

Working servers without Xbox Live

To log in to the server, you no longer need to log in to your Xbox Live account. You can simply change your nickname and start the game on the server.
Official Changelog