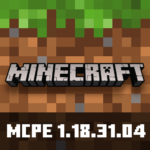 Minecraft PE 1.18.31.04
Download Minecraft PE 1.18.31.04 APK for Android with a working xbox live account! The update added a Viewer Mode slider and fixed 13 bugs.
Viewer Mode
Added an experimental switch. Read more:
Initial version
Developers will update the feature
Fixed bugs
Fixed 13 bugs. Important:
Fixed crashes
Experience cannot be obtained in an unfair way through Stoves
Teleporting creatures to unloaded chunks does not cause them to disappear
The screen does not turn black when rebooting RTX worlds
Fixed block textures at a distance on Android
Fixed water and lava textures on iOS
Fixed frame rate jumps (FPS) Minecraft
Mobs don't appear on Buttons
Fixed performance failures when saving and reloading chunks multiple times
Fixed the worlds bug after upgrading to version 1.18.30
The achievement "Charming Music" is performed correctly
In-Game Market Opens on Nintendo Switch
Fixed infinite loading when buying on the In-game market
Download Minecraft 1.18.31.04
Version 1.18.31.04
Working Xbox Live

Free login to your Xbox Live account is available. No restrictions.

Working servers without Xbox Live

To log in to the server, you no longer need to log in to your Xbox Live account. You can simply change your nickname and start the game on the server.
Official Changelog