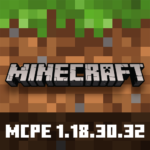 Minecraft PE 1.18.30.32
Download Minecraft PE 1.18.30.32 APK for Android with a working xbox live account! In this update, Watchmen and an Ancient City have been added. Fixed 6 bugs.
The Watchman
A blind and terrible monster. Features:
Spawn in the Dark Depths biome
Responds to vibrations
With weak vibrations, it uses a scent
Moves quietly
It is better not to approach the Warden or face him
Unnoticeable until he hears the victim
Waiting for the signal from the Rolling Screamers to attack
The louder the footsteps, the angrier the mob
– The speed of the heartbeat depends on anger
In case of strong anger , he stands opposite and growls before the attack
It goes away if you do not anger and do not get caught within 60 seconds
More than one launched projectile within 5 seconds angers the mob
– Use projectiles only once every 5 seconds when collecting loot from Chests
Breaks Shields on impact
Nothing falls out at death
It's better to sneak around and not disturb than to fight
Ancient city
An abandoned structure with long-forgotten treasures. Features:
Generated in the Dark Depths biome
The treasures in the Chests are guarded by Skalk-shrikers and Acoustic sensors
Reinforced deep shale appears
– Cannot be obtained in survival mode
To search for a structure, write the command /locate ancient city
Known errors
– Generated far beyond the Dark Depths biome
– Reservoirs can destroy chunks of an ancient city
Fixed bugs
Fixed 6 bugs. The main thing:
Fixed a crash when taking damage with a helmet on from a falling block
Creatures do not disappear when transferring worlds from Old console editions
Mobs with repulsion resistance are repelled less when fighting an Iron Golem
Fixed generation of Edge Cities
Fixed the appearance of buttons and information for downloaded skin packs
The wheel of emotions does not get stuck when using the sensor in Minecraft
This is a beta version. Make backup copies of the worlds.
Download Minecraft 1.18.30.32 Beta
Version 1.18.30.32 Beta
Working Xbox Live

Free login to your Xbox Live account is available. No restrictions.

Working servers without Xbox Live

To log in to the server, you no longer need to log in to your Xbox Live account. You can simply change your nickname and start the game on the server.
Official Changelog