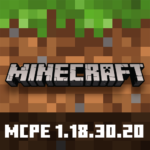 Minecraft PE 1.18.30.20
Download Minecraft PE 1.18.30.20 APK for Android with a working xbox live account! Updated the Gloomy Depths, made 14 changes for equality with Java and fixed 22 bugs. We are waiting for the appearance of the Watchman.
Experimental functions
An update for the Murky Depths. More detailed:
Preparations are underway to add a Watchman
The skalk-schriker reacts to an acoustic sensor
Reduced the level of fear for the appearance of the Watchman
Equality with Java
We have made 14 fixes for the equality of Bedrock and Java. Important:
Flowing liquid does not push the player in creative mode
Villagers use bone meal on plants and create it from excess seeds in a composter
Enchantment "Protection" works on most types of damage
Fixed the illusion of regeneration
Falling on a Stalagmite correctly calculates the damage
Fixed a bug with invulnerability to damage
Changed the damage reduction from enchantment "Protection"
Yellow hearts from "Absorption" turn black when receiving "Desiccation"
Added armor strength
Diamond armor has a 2 strength value
Non-cerite armor has a 3 strength value
Changed the calculation of damage from armor strength
Non-Cerite armor reduces more damage than Diamond Armor
Reduced the drop resistance from Non-Cerite armor
Reduced the damage from a hand strike
Fixed bugs
Fixed 22 bugs.
Technical changes
Added 8 technical changes for Minecraft. RenderDragon is being tested on all Android and iOS devices.
This is a beta version. Make backup copies of the worlds.
Download Minecraft 1.18.30.20 Beta
Version 1.18.30.20 Beta
Working Xbox Live

Free login to your Xbox Live account is available. No restrictions.

Working servers without Xbox Live

To log in to the server, you no longer need to log in to your Xbox Live account. You can simply change your nickname and start the game on the server.
Official Changelog