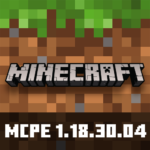 Minecraft PE 1.18.30.04
Download Minecraft PE 1.18.30.04 APK for Android with a working xbox live account! Updated the New World Creation Screen, made 73 changes, fixed 75 bugs and added 66 technical changes.
New World Creation Screen
Improved the world creation menu. Changed the navigation, updated the descriptions and worked on the design. It will gradually appear on all types of devices.
Changes
73 changes were introduced. More detailed:
Added all the changes from the test versions of Minecraft
Realms that do not work longer than 18 months are automatically deleted
The Enderdragon engine works on all devices
Added mobs, items, blocks and biomes to the Experimental Mode
– Guardian (Varden)
– Special (Elay)
– Ancient city
– Gloomy depths
– The effect of darkness
– Rolling blocks
– Boat with a chest
The observer mode has appeared
Fixed bugs
Fixed 75 bugs. Main:
Reduced the number of failures
Moved all fixes from beta versions
Known errors
Two mistakes. Important:
Teleporting creatures to unloaded chunks leads to the disappearance of
There are problems with using the camera on touch devices
Download Minecraft 1.18.30.04
Version 1.18.30.04
Working Xbox Live

Free login to your Xbox Live account is available. No restrictions.

Working servers without Xbox Live

To log in to the server, you no longer need to log in to your Xbox Live account. You can simply change your nickname and start the game on the server.
Official Changelog