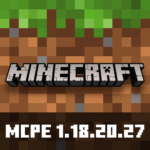 Minecraft PE 1.18.20.27
Download Minecraft PE 1.18.20.27 APK for Android with a working xbox live account! We fixed 15 bugs, made 14 normal and 11 technical changes.
Minecraft Preview
The first update for the version. Players on Windows and iOS can play with each other.
Changes
We have made 14 changes. Interesting:
Improved damage calculation
Improved calculation of armor damage reduction
Ifrit's Fireballs, Summoner's Jaws, and Shalker's Balls deal the same damage at all difficulty levels
Changed the damage at the normal difficulty level:
– Small Magma cubes deal 3 damage
– Spiders deal 2 damage
– Zoglin's cubs deal 0.5 damage
– The Skeletons' Melee attack deals 2 damage
– Wolves deal 4 damage
Hoglin Cubs Don't Attack Players
Cows, Pigs, Chickens and Sheep will not spawn in the Taiga
Added a pop-up warning in the Minecraft In-game market
Fixed bugs
Fixed 15 bugs. Important:
Fixed the interaction of identifiers and names of items or blocks
Dragon Edge Attack with Breath deals damage
The player will remain in the same place if he was standing in lava when exiting the game
The player flies through Ladders and Vines in Creative Mode
Fixed the animation of the Shield after the first block
The third stage of Carrot growth is working again
Bees do not attack the player when the Hive is broken with a "Silk Touch" tool
Fixed a bug with pressing interface buttons
The text is displayed correctly when switching to the new interface
Fixed failures when controlling the controller
Fixed hangups and crashes when clicking "Show more"
The download popup no longer flickers when closed
Fixed bugs with animation of emotions
Technical changes
Added 11 technical changes for addon development and testing.
This is a beta version. Make backup copies of the worlds.
Download Minecraft 1.18.20.27 Beta
Version 1.18.20.27 Beta
Working Xbox Live

Free login to your Xbox Live account is available. No restrictions.

Working servers without Xbox Live

To log in to the server, you no longer need to log in to your Xbox Live account. You can simply change your nickname and start the game on the server.
Official Changelog