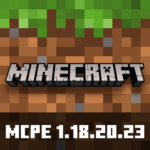 Minecraft PE 1.18.20.23
Download Minecraft PE 1.18.20.23 APK for Android with a working xbox live account! The update improved Experimental features, fixed 7 bugs and made 9 technical changes.
Experimental mode
Improved Frogs, Frog Eggs and Goat Horn. Basic:
Frogs
– Improved jumps
– Mobs multiply and are lured by Slime
– Tadpoles have 6 health units
– Changed the spawn frequency of Marsh frogs
Frog eggs
– They are destroyed by a piston, falling blocks or when removing water under the block
– Blocks under the Calves do not interfere with hatching
– They are placed on swampy blocks in Minecraft
– Fixed placement with the /fill command under water or on solid ground
Goat Horn
– After use, there will be a recharge
Fixed bugs
Fixed 7 bugs. Important:
Fixed saving custom skins
Enchantment "Fix" correctly spends experience
Drowned people will not spawn when the light is above zero
The beta version features are saved when you re-enter the game
The boiler is not filled from drippers below the water level
Armor from the add-ons can be put on using the button
Technical changes
Added 9 technical changes for addon development and testing.
Fixed a strange bouncing of shells from the Bell
Improved the use of functions
This is a beta version. Make backup copies of the worlds.
Download Minecraft 1.18.20.23 Beta
Version 1.18.20.23 Beta
Working Xbox Live

Free login to your Xbox Live account is available. No restrictions.

Working servers without Xbox Live

To log in to the server, you no longer need to log in to your Xbox Live account. You can simply change your nickname and start the game on the server.
Official Changelog