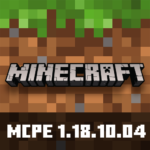 Minecraft PE 1.18.10.04
Download Minecraft PE 1.18.10.04 APK for Android with a working xbox live account! The update has collected everything from the test versions. Frogs and Frog Light appeared in the game.
Frog
The new swamp mob. Features:
Experimental mode is required
Spawn in the Swamps
Jumps high, walks on land and croaks
It is lured and propagated by Sea grass
Lays eggs after reproduction
Tadpoles hatch from the Caviar
There are three types: swamp (orange), snow (green) and tropical (white)
Eats small Slugs
– At the same time, Mucus falls out
Frog light
A new lighting device. Details:
Experimental mode is required
Three colors: Green, yellow, purple
It only falls out if the Frog eats a small Lava cube
The color depends on the color of the Frog
The maximum brightness level is 15
Changes
We have made 17 changes. Most of the beta versions. The main thing:
The settings of the worlds change in the Realms themselves
Improved textures of blocks and objects to eliminate errors and more similarity between Java and Bedrock
Fixed bugs
98 bugs have been fixed. All taken from the test versions of Minecraft. We will not list all the errors again. There are fewer departures and failures.
Download Minecraft 1.18.10.04
Version 1.18.10.04
Working Xbox Live

Free login to your Xbox Live account is available. No restrictions.

Working servers without Xbox Live

To log in to the server, you no longer need to log in to your Xbox Live account. You can simply change your nickname and start the game on the server.
Official Changelog