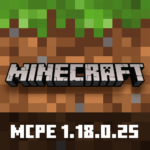 Minecraft PE 1.18.0.25
Download Minecraft PE 1.18.0.25 APK for Android with a working xbox live account! In the update, the file storage location was changed, 6 changes were made and 13 errors were fixed.
Changes
Made 6 changes to the game. Important:
Azalea trees are generated in shallow water
The deep warm ocean is no longer generated
API version changed from 30 to 29
– The external file storage location will be moved to the new one. If this was done manually, the change will be unnoticeable
– Moving the storage location is related to Google requirements
– The game will work even if the move failed
If you delete the game, all data will be lost
– The data will not disappear when you check the box about saving data
– It is recommended to check the box when reinstalling
Updated the message "Not enough storage space"
Fixed bugs
Fixed 13 bugs. Basic:
Fixed empty chunks when loading old worlds in Minecraft
The leaves will be transparent again next to the incomplete blocks
Fixed visibility through the blocks under the Foliage block
The shield does not get stuck in the left hand slot
Fixed spawn in worlds from the Market in test versions
Fixed the separation of Double Chests
In Cold biomes, Ice columns are not generated below Y=0 in worlds with updated chunks
Underwater ruins and a sunken ship are less common
Azalea trees are not generated underwater
The rooted earth is not generated without the Azalea Tree
Fixed generation of pillars from the Drip block in the Upper World
A young hardball cannot be placed inside the Lava
Fixed the operation of Music records in the Lower World
Technical changes
Fixed 1 bug. The fix concerns the development of addons.
This is a beta version. Make backup copies of the worlds.
Download Minecraft 1.18.0.25 Beta
Version 1.18.0.25 Beta
Working Xbox Live

Free login to your Xbox Live account is available. No restrictions.

Working servers without Xbox Live

To log in to the server, you no longer need to log in to your Xbox Live account. You can simply change your nickname and start the game on the server.
Official Changelog