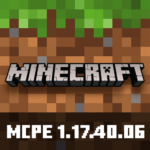 Minecraft PE 1.17.40.06
Download Minecraft PE 1.17.40 APK for Android with a working xbox live account! The update added Stone Peaks, fixed 47 bugs and made 23 changes. Most of them were transferred from the test versions. We have listed the main things.
Stone Peaks
Generated on the tops of mountains. They appear at the junction of warm and cold biomes.
So far, they are generated only when the Experimental mode is turned on
A warm version of Snowy and High Peaks
They consist of Stone and Gravel
Experimental functions
We have made 23 improvements for the Experimental Mode. Important:
Improved the update of the world below the Y=0 level by enabling the "Caves and Cliffs" mode in the settings
– Already changed parts will not be updated
Clouds appear at an altitude of Y=192
New flat worlds are created from the level Y=-64
The old flat worlds have become higher
The style of villages depends on the biome
Copper ore now appears up to Y=96
Fixed bugs
Fixed 47 bugs. Interesting:
Fixed crashes in the Worlds Menu when losing Internet access
A well-fed character will not eat
World settings are now transferred to Realms when worlds are replaced
Fixed the display of the Leash when attached to mobs out of sight
Mobs avoid fire
Improved Bee spawn
Fixed the spawn of the Experience Sphere when entering the command /summon
More mobs appear underground
When teleporting to another dimension, the player will no longer light up
Download Minecraft 1.17.40.06
Version 1.17.40.06
Working Xbox Live

Free login to your Xbox Live account is available. No restrictions.

Working servers without Xbox Live

To log in to the server, you no longer need to log in to your Xbox Live account. You can simply change your nickname and start the game on the server.
Official Changelog