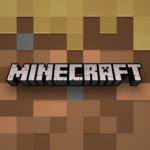 Minecraft PE 1.17.30.25
Download Minecraft PE 1.17.30.25 for Android with working Xbox Live: explore your surroundings at long range, mine new glowing material!
What's new in Minecraft 1.17.30.25?
Developers from Mojang Studios have released another version of the Caves & Cliffs update. This update should eventually completely change the caves to stay in them should be much more interesting in Minecraft PE 1.17.30.25.
Generation
First of all, it is worth noting the global changes in the generation of Minecraft 1.17.30.25. Transitions between different biomes have become smoother. Also changed and the generation of mountains, which made them more realistic. Previously, they resembled at most some hills.
Separate attention deserves amethyst glands. Basically, this structure can be found only underground.
It is a ball consisting of several layers: inner, middle and outer. The most interesting thing is in the inner layer of the amethyst tin in Minecraft PE 1.17.30.25.
When walking on amethyst blocks, the user can hear quite pleasant sounds made by these blocks.
Candles
Another interesting innovation in Minecraft 1.17.30.25 became candles. This is a new source of light. To craft a candle, the player needs to use thread and bee honeycomb. Bee honeycombs can be obtained with the help of scissors. To do this, they need to be used on a bee's nest.
However, you should be careful as the bees will try to protect their shelter. In this case, a great solution is to set up a fire under the nest. This way the bees will not attack the player.
Spyglass
This item in Minecraft PE 1.17.30.25 has become a great innovation for travelers.
The telescope tube allows you to observe what is happening at a great distance. To craft this item, the player needs copper ingots and a shard of amethyst. Copper can be obtained by smelting copper ore.
This is a beta version. Make backup copies of the worlds.
Download Minecraft 1.17.30.25 Beta
Version 1.17.30.25 Beta
Working Xbox Live

Free login to your Xbox Live account is available. No restrictions.

Working servers without Xbox Live

To log in to the server, you no longer need to log in to your Xbox Live account. You can simply change your nickname and start the game on the server.