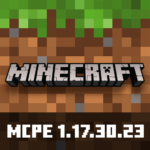 Minecraft PE 1.17.30.23
Download Minecraft PE 1.17.30.23 APK for Android with a working xbox live account! The update improved the generation of the world, fixed 14 bugs and made 11 technical changes.
Generating the world
Added 7 features to the Experimental Mode. The main thing:
Improved the generation of the landscape and natural transitions between biomes
Improved generation for greater surface differences above and below water
Large ore veins have been added
Added Caves-spaghetti – winding passages between large caves
Added dry cave entrances to simplify access to Noisy Caves
Fixed bugs
Fixed 14 bugs. Main:
The Bonfire and the Bonfire of Souls are added to the inventory
When pushing a Cake with a candle with a Piston, a Candle falls out
Fish and Axolotl no longer fall out of the bucket at the time of collection
Fixed the operation of the renamed Structural Block
The player does not take damage when falling on Scaffolding
Fixed the display of some symbols on the Plate with Glowing ink
Enchantment "Spikes" throws mobs away again
The Iron golem will now spawn as in the Java version
Crimson roots can grow on a Distorted nile when using Bone meal
The /spawnpoint command is executed successfully, even if there is already a spawn point at this point
The camera shake effect only works for one player when adding "@s" to the team
Fixed incorrect display of the "Log in" button
Technical changes
Added 11 technical changes for the development of addons in Minecraft. Interesting:
Custom blocks can be added to the inventory of creativity again
Weakened the rejection from the roar of mobs
This is a beta version. Make backup copies of the worlds.
Download Minecraft 1.17.30.23 Beta
Version 1.17.30.23 Beta
Working Xbox Live

Free login to your Xbox Live account is available. No restrictions.

Working servers without Xbox Live

To log in to the server, you no longer need to log in to your Xbox Live account. You can simply change your nickname and start the game on the server.
Official Changelog