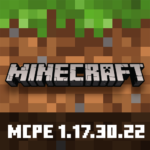 Minecraft PE 1.17.30.22
Download Minecraft PE 1.17.30.22 APK for Android with a working xbox live account! The update added 7 changes for Java and Bedrock equality, fixed 13 bugs and made 5 technical changes.
Equality with Java
We have made 7 corrections for the equality of versions:
The barrier breaks even without the block itself in your hands
Projectiles do not pass through the Barrier
The player can no longer interact with the blocks behind the Barrier
If you destroy the dropped Shalker box, then the items will remain
Bow and Trident now look like in Java
The color of Water and Grass is now displayed correctly
Abandoned villages will be less common
Fixed bugs
Fixed 13 bugs. Important:
The player is not transferred to the zero level when getting off the mob at negative heights (Experimental mode)
Cartographers sell a Treasure Map only to undiscovered Fortresses
Balanced enchantments in the Enchantment Book
Fixed the display of Crossbow, Shield and Trident when playing online with skins
Fixed the animation of throwing out the Telescope after use
Improved lighting in RTX mode
The Quick Access toolbar does not darken when anti-aliasing is increased
The sight does not blink while playing online
Changed the download bar from the In-game market
Fixed the offset of the Quick Access Toolbar
Fast crafting on the touch interface works in a stone cutter and a loom
Technical changes
Added 5 technical changes for the development of addons in Minecraft. The most interesting thing:
Now you can run commands in mods even if the player does not have cheats enabled
This is a beta version. Make backup copies of the worlds.
Download Minecraft 1.17.30.22 Beta
Version 1.17.30.22 Beta
Working Xbox Live

Free login to your Xbox Live account is available. No restrictions.

Working servers without Xbox Live

To log in to the server, you no longer need to log in to your Xbox Live account. You can simply change your nickname and start the game on the server.
Official Changelog