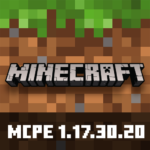 Minecraft PE 1.17.30.20
Download Minecraft PE 1.17.30.20 APK for Android with a working xbox live account! We fixed 25 bugs, made 2 normal and 16 technical changes.
Equality with Java
Developers continue to improve the bedrock version:
Eating the Horus Fruit while flying does not cause fall damage
Skeletons hold a bow with two hands
Fixed bugs
Fixed 25 bugs.
Basic
Fixed crashes during the game
Fixed crashes when downloading maps from the In-game market
Speech synthesis correctly vocalizes text in inventory and chat
The block of Light is visible when holding the block in your hand and shows the degree of illumination
Fixed the removal and configuration of the Light block
Fixed the hitbox of the Light block
Fixed the destruction of the Barrier Block without holding the block itself
Boats do not remain in the inventory after spawning
Fixed user interface errors
Fixed the display of mobs in the Structural Block menu
Desiccant can spawn at negative heights (experimental function)
Gasts do not appear in an area smaller than 5x4x5 blocks
Magma cubes do not appear in an area smaller than 3x3x2 blocks
Increased the hitbox of Magma Cubes
Fixed the font of the Glowing text on the Plates
Fixed a bug with blocks in the water
Fixed a bug with Pumpkins when trading with Villagers
You cannot add more Candles if there is no supporting block.
The sky is not drawn through the ceiling of a large space when fog is activated
Technical changes
The developers have added 16 technical changes for the development of addons and testing of Minecraft.
This is a beta version. Make backup copies of the worlds.
Download Minecraft 1.17.30.20 Beta
Version 1.17.30.20 Beta
Working Xbox Live

Free login to your Xbox Live account is available. No restrictions.

Working servers without Xbox Live

To log in to the server, you no longer need to log in to your Xbox Live account. You can simply change your nickname and start the game on the server.
Official Changelog