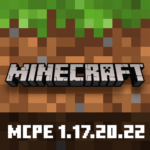 Minecraft PE 1.17.20.22
Download Minecraft PE 1.17.20.22 APK for Android with a working xbox live account! Updated spawn monsters, made 7 changes, fixed 25 bugs and added 20 technical changes.
Experimental functions
When the Experimental Mode is activated, the monsters will spawn only in complete darkness.
Player-lit caves will be safer
Works only with artificial lighting
Changes
The developers have made 7 changes:
Armor will fall out of the burnt Armor Rack
Limited spawn of Phantoms
The Axolotl will spawn only if there are up to 10 Stone blocks under it and not in a Column of bubbles
Amethyst clusters cannot be placed on a Grass path
A layer of snow melts next to the Torch
Sea cucumber changes brightness outside of water
The distributors remove the column of bubbles along with the water
Fixed bugs
Fixed 25 bugs. The main ones were highlighted:
Falling blocks (Sand, Gravel) do not break when landing on certain blocks
Corrected the use of Bone meal on Moss among Tuff blocks
Fixed the visibility of the installed light block when holding the block in your hand
A body with equipment does not remain on the ground after death in inventory saving mode
The portal on the border of chunks does not break when the player exits the Lower World
Scissors break Creepers and Glowing Lichen faster
Twisting and weeping vines will grow properly after being destroyed by the player
Fixed a bug with darkening half of the Enchantment Table
The blocks do not turn white when moved by the Piston
Fixed the work of the Recipe Book
Technical changes
The developers have added 20 technical changes for the development of addons and testing of Minecraft.
This is a beta version. Make backup copies of the worlds.
Download Minecraft 1.17.20.22 Beta
Version 1.17.20.22 Beta
Working Xbox Live

Free login to your Xbox Live account is available. No restrictions.

Working servers without Xbox Live

To log in to the server, you no longer need to log in to your Xbox Live account. You can simply change your nickname and start the game on the server.
Official Changelog