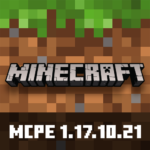 Minecraft PE 1.17.10.21
Download Minecraft PE 1.17.10.21 APK for Android with a working xbox live account! In this version, we added potted Azalea variants, fixed 28 bugs and made 9 technical changes.
Not available for Android
For technical reasons, this update is not available for Android devices. But the multiplayer is still compatible with version 1.17.10.20.
Azalea in a pot
The game has added options for Ordinary and Blooming azaleas in a pot.
Fixed bugs
Fixed 28 bugs. We have highlighted the main:
Fixed a bug that caused the game to crash when the block was destroyed
Fixed the generation of diamond ore
Glowing lichen is now dropped only when using scissors
Frozen ice can be specified when using the commands
The text on the illuminated plates now has an outline, as in Java
Fixed bugs with a glowing ink bag
The player can no longer paint the text on the plates in Adventure mode
Underwater fog again depends on the biome
Villagers are now always picking pumpkins, regardless of the direction
Goats can now ram the player on blocks of slime and honey
The drop damage reduction for the goat is now the same as in Java
The Skull of a Desiccant skeleton no longer falls from Zimogor if it was killed by a Charged Creeper
Mining in Bastion now corresponds to Java
Fixed a bug that caused the player to float in the air
Technical changes
The developers have made 9 technical changes. They are mainly related to the development of addons and testing of the game. You can find out more in the official list of changes.
This is a beta version. Make backup copies of the worlds.