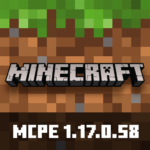 Minecraft PE 1.17.0.58
Download Minecraft PE 1.17.0.58 APK for Android with a working xbox live account! The update made 18 changes and improved the stability of the game.
Changes
Made 15 changes to the update "Caves and Rocks". List of changes:
Water drips only from the tip of the Stalactites
When filling the boiler, the water from the Stalactites drips a little more often
The stalactite now breaks if its support was broken
Changed the background color in the settings
The trolley no longer blocks the player's view
Because of the card in the glowing frame, neighboring objects no longer glow
When the frame is destroyed, not only the frame is now dropped with the object
Fixed saving data of copied blocks
Fixed a bug that caused the furnace to run without fuel
Fixed an error that caused the map to be centered on the player's position when created
Little Axolotls no longer eat a bucket when they are fed a bucket of tropical fish
The buckets from which the Axolotls were fed can now be stacked together with other buckets
Fixed the ripple effect on portals
Fixed columns of bubbles on magma blocks
Fixed the work of the /execute command
Technical changes
Made 3 changes. Basically, these are the changes that addon developers need.
This is a beta version. Make backup copies of the worlds.
Download Minecraft 1.17.0.58 Beta
Version 1.17.0.58 Beta
Working Xbox Live

Free login to your Xbox Live account is available. No restrictions.

Working servers without Xbox Live

To log in to the server, you no longer need to log in to your Xbox Live account. You can simply change your nickname and start the game on the server.
Official Changelog