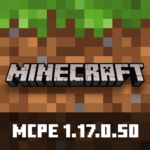 Minecraft PE 1.17.0.50
Download Minecraft PE 1.17.0.50 APK for Android with a working xbox live account! In update, Amethysts and Geodes, tinted glass, a telescope, raw ore, blocks of raw ore, tuff were added and many other changes were made.
Amethyst Geodes
This structure is generated underground, usually below Y=70. Here you can find Amethysts and Calcites. It has three layers:
The outer layer of smooth basalt
The middle layer of calcite
Inner hollow layer of blooming amethysts, amethyst blocks and buds
Description of blocks:
Smooth basalt is a decorative block. It is also extracted by firing ordinary Basalt.
Calcite is a decorative block.
A blooming amethyst is a block on which amethysts grow.
Amethyst block is a decorative block, crafted from 4 fragments of amethyst.
Amethysts
They grow on either side of the blossoming amethyst. They have 4 stages of growth:
Amethyst bud — the first three stages.
The amethyst cluster is the fourth and final stage.
4 fragments of amethyst fall out of the Amethyst Cluster. For mining, you need an iron pickaxe or better.
Tinted glass
This is a glass that does not let in light. Mobs don't see the player through it. For crafting you need:
1 block of glass
4 shards of amethyst
It can be mined without a pickaxe for a "Silk Touch", unlike ordinary glass.
Spyglass
Makes it possible to look at distant objects. For crafting you need:
2 copper ingots
1 shard of amethyst
Raw ore
Now if you break the ore block, raw ore is dropped. It can be melted down into ingots. List of new ores in Minecraft:
Raw Copper
Raw iron
Raw Gold
Old ores will not be lost, they can also be melted.
Blocks of crude ore
This is a compact way to store raw ore. They are made from 9 units of crude ore.
Tuff
So far, this is a decorative block. Generated below Y=16, mined only with a pickaxe.
Experimental mode
These innovations are now available without the "Caves and Cliffs" slider in the map settings:
Changes
72 changes were made. The list is large, so we have highlighted the main.
List of changes
Axolotls
– If you catch it in a bucket, the achievement "I am a marine biologist" will not be unlocked
– Increased the probability of spawn
– Axolotls no longer impose regeneration on themselves after killing
– The player gains experience when reproducing Axolotls
Cobwebs no longer hang in the air in mines
The copper surface loses oxidation when struck by lightning more randomly
Fixed the operation of horizontally positioned lightning rods
Copper blocks lose oxidation from a lightning strike even without a lightning rod
Landing on a dropper now does not cause fall damage if fall damage is disabled in the rules of the game
A frame with a glowing object emits a red stone signal when turning
Fixed the position of the lightning rod in the hand
Lush caves
Added generation of lush caves
Now the leaves of azalea and flowering azalea can be broken and get a drop
Added voice acting for the use of bone meal
Gorenje, freezing and drowning damage sounds have been added.
As well as 7 technical changes
This is a beta version. Make backup copies of the worlds.
Download Minecraft 1.17.0.50 Beta
Version 1.17.0.50 Beta
Working Xbox Live

Free login to your Xbox Live account is available. No restrictions.

Working servers without Xbox Live

To log in to the server, you no longer need to log in to your Xbox Live account. You can simply change your nickname and start the game on the server.
Official Changelog