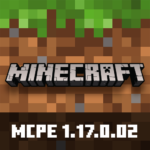 Minecraft PE 1.17.0.02
Download Minecraft PE 1.17.0.02 APK for Android with a working xbox live account! In this update, we added everything from the test versions, as well as a Screaming Goat, 3 new achievements and made 8 changes.
What's new?
The release added everything from the test versions: Axolotls, Mountain Goats, Octopuses and 20 more innovations. Details in the main article on Minecraft 1.17.
The screaming goat
A rare version of a Goat. Features:
Spawns with a chance of 2%
Makes louder sounds
Attacks much more often
Externally, it does not differ from the usual
As with a regular Goat, you can get milk with a bucket
New achievements
Added three new achievements:
"With wax and without wax — apply wax to all the copper blocks and remove it from them"
"The healing power of friendship — team up with the axolotl and win the battle"
"Whatever your goat wants — get in the boat and sail with the goat"
Changes
A total of 8 changes were made to update the "Caves and Rocks". Let's list the main ones:
Improved visibility when swimming in underground caves
New panorama of the main menu in the style of "Caves and Rocks: Part 1"
Updated the view of the loading screen
Updated textures of compass, clock and ore
Improved the sounds of damage during gorenje, freezing and drowning
Bone meal makes a sound when used
Drowned people drop copper ingots instead of gold
Fixed bugs
The developers have moved 74 bug fixes from the test versions.
Technical changes
Made 34 changes for addon developers. Also updated templates for mods:
Behavior package: aka.ms/behaviorpacktemplate
Texture Pack: aka.ms/resourcepacktemplate
Download Minecraft 1.17.0.02
Version 1.17.0.02
Working Xbox Live

Free login to your Xbox Live account is available. No restrictions.

Working servers without Xbox Live

To log in to the server, you no longer need to log in to your Xbox Live account. You can simply change your nickname and start the game on the server.