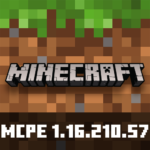 Minecraft PE 1.16.210.57
Download Minecraft PE 1.16.210.57 APK for Android with a working xbox live account! The update added copper ore, copper ingots, copper blocks and a lightning rod. The developers also fixed 23 bugs.
Copper
Copper was added to Minecraft. It has the property of oxidizing, protecting its brains with wax. Full list of features:
Added generation of copper ore
The ore can be melted down into ingots
Added copper blocks
Copper blocks are made from ingots
We added cut copper, stairs, semi-blocks, look for them in the creative inventory
Cut copper blocks can be obtained from copper blocks
Copper blocks oxidize over time
The copper block has its own installation sound
Drowned people drop copper instead of gold bars
Copper blocks can be protected from oxidation with wax:
– Cover the copper block with honeycomb
– Apply honeycombs on the block using crafting
– Use a distributor with honeycombs
Lightning Rod
A lightning rod has been added to the game. It is used to protect against lightning, generates a redsuton signal from lightning. List of features:
It is made from copper ingots
Interacts with lightning strikes:
– Attracts lightning strikes within a radius of 64 blocks
– If you throw a Trident into a lightning rod during a thunderstorm, lightning will strike it
– A lightning strike into a lightning rod creates a redstone signal for 8 game ticks (0.4 seconds)
Fixed bugs
Fixed 23 bugs. Improved the stability of the game client. A few main points:
Fixed the damage from the Shalker Boxes
Fixed melee attack on mobs
Reading from the screen voices the action when the player opens the chat settings
Improved the smoothness of the interface animation
Fixed issues with the /clone command
Fixed errors with the structural block
This is a beta version. Make backup copies of the worlds.
Download Minecraft 1.16.210.57 Beta
Version 1.16.210.57 Beta
Working Xbox Live

Free login to your Xbox Live account is available. No restrictions.

Working servers without Xbox Live

To log in to the server, you no longer need to log in to your Xbox Live account. You can simply change your nickname and start the game on the server.
Official Changelog