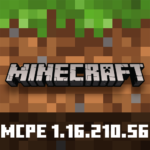 Minecraft PE 1.16.210.56
Download Minecraft PE 1.16.210.56 APK for Android with a working xbox live account! An acoustic sensor and a Dropper were added.
Acoustic sensor
Reacts to vibration and creates a redstone signal. A new era of mechanisms! Let's list the features of the block:
Responds to vibration nearby
Does not react if the player is sneaking
Does not respond to other acoustic sensors
Catches vibration at a rate of 1 game tick per 1 block
Catches up to 1 signal at a time
Creates a redstone signal for 2 seconds, or for 40 game ticks
Reception radius — 8 blocks
Temporarily reacts only to: steps, swimming, installation and destruction of blocks, use of wings, impact on the ground, drops, falling projectiles
Dropper
A block forming Stalactites and Stalagmites. These are "stone icicles" appearing in a karst cave. Can cause damage when falling. Droppers together form:
Stalactites — "icicles" at the top
Stalagmites — "icicles" from below
Stalgnates — "icicles" from bottom to top
Block Features:
Temporarily can only be found in the creative inventory
Falling Stalactite deals collision damage
Falling on a Stalagmite causes damage
Stalactites have animations of falling water and lava
Sometimes there are bugs, since this is a beta version
Fixed bugs
Fixed 10 bugs. A few interesting points:
Fixed getting the "Pork Chop" achievement
Fixed a bug that caused foxes not to eat sweet berries
Fixed the use of summoning eggs in adventure mode
This is a beta version. Make backup copies of the worlds.
Download Minecraft 1.16.210.56 Beta
Version 1.16.210.56 Beta
Working Xbox Live

Free login to your Xbox Live account is available. No restrictions.

Working servers without Xbox Live

To log in to the server, you no longer need to log in to your Xbox Live account. You can simply change your nickname and start the game on the server.
Official Changelog