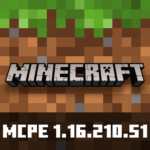 Minecraft PE 1.16.210.51
Download Minecraft PE 1.16.210.51 APK for Android with a working xbox live account! Fixed bugs, improved Loose Snow, and made Caves and Cliffs edits.
Goat
Fixed 30 bugs related to Goats. Don't forget to activate Caves and Cliffs in the Minecraft map settings. The main ones are in the list:
The goats are no longer trying to attack the target behind the obstacle
Goat no longer jumps on magma blocks
The goat can now jump on half blocks
Fixed the crash of the game after the killing of a Goat by a shalker
Fixed Goat breeding
The goat on a leash now follows the player correctly
The goat now gives birth to only 1 cub at a time
The goat no longer attacks the armor rack
Creepers no longer respond to a Goat attack
The goat now correctly estimates the jump range
The goat can be attacked again after jumping
Fixed a bug that caused the Goat to jump too high
Increased the accuracy of the ram of the Goat
Goats now drop only 2 horns
The cubs are now pushing away at a smaller distance
The drop distance depends on the speed
The goat drops the first target on its way
The goat is now pushing the target higher
The goat no longer jumps from the honey block
The cub is now jumping lower
The goat rarely jumps on the plain
The goat no longer jumps if pushed from its starting position
Changed the color of the Goat's summoning egg
Updated the Goat model, now it turns its head correctly
Added a minimum distance for ramming a Goat
Now the Goat is trying to choose a long distance to ram
Now the shield partially protects from ramming
After losing the texture horn, the Goats first lose one and then the second horn
Loose snow
Fixed 2 bugs.
Added animation when the block is destroyed
The block is no longer transparent when viewed through the clouds
Vanilla Parity
Made 2 changes.
If you wash off a thin layer of snow with water, snowballs will no longer drop
Using bone meal in the ocean now creates only marine plants
Fixed bugs
Fixed 7 bugs. The main ones are:
Updated some outdated hints on the loading screen
Fixed the extraction of Crimson gifs with a Silk touch
Fixed a bug that caused parrots to sometimes fly endlessly upwards
Fixed the villagers V2
This is a beta version. Make backup copies of the worlds.
Download Minecraft 1.16.210.51 Beta
Version 1.16.210.51 Beta
Working Xbox Live

Free login to your Xbox Live account is available. No restrictions.

Working servers without Xbox Live

To log in to the server, you no longer need to log in to your Xbox Live account. You can simply change your nickname and start the game on the server.
Official Changelog