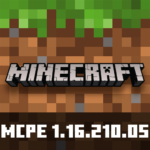 Minecraft PE 1.16.210.05
Download Minecraft PE 1.16.210.05 APK for Android with a working xbox live account! The update is aimed at improving stability, more than 100 changes have been made in this version.
Vanilla Parity
Work continues on equality with Java. The developers have made several changes:
Fixed ambient sounds in the Lower World
Install Minecraft Original Music Pack to hear new sounds
Using bone meal in the ocean creates only underwater plants
Changes
There are only three main points:
The F11 key enables full-screen mode on Windows 10
Added text-to-speech volume settings
Android 4 KitKat support is discontinued, see the official technical requirements
Fixed bugs
Fixed 74 bugs. We have highlighted the most interesting in the list:
The ink bag received from the Traveling Merchant can now be used for crafting
Fixed crashes from the game
Fixed working with files .mcstructure
Now the player does not get drop damage when opening the Shalker Boxes
Identical sids generate the same contents of chests
Mobs can attack high or low enemies again
Fixed a bug that caused the Parrots to fly up endlessly
Fixed the Dragon Edge animation
Foxes are picking sweet berries again
Fixed the work of TNT in the water
Improved the function of reading text from the screen
Improved the smoothness of the animation of the transition to the menu
Updated the prompts on the loading screen
Golden apples have colored text on the quick item selection panel
Updated the Achievements Screen
Console commands
Made 12 changes. The main ones are in the list:
Fixed the teleportation command
Improved the work of the /tickingarea add and /tickingarea remove commands
Added a stop for the command /screenshot
In the table of the game event scoring system, the points are aligned to the right
Modified the /setblock command
Modified the command /clone
Technical changes
Made 26 changes. Most of them are related to the development of mods, for more information, see the official list of changes. The developers have also updated templates for addons:
A behavior package, a template with documentation: aka.ms/behaviorpacktemplate
Texture pack, template: aka.ms/resourcepacktemplate
Download Minecraft 1.16.210.05
Version 1.16.210.05
Working Xbox Live

Free login to your Xbox Live account is available. No restrictions.

Working servers without Xbox Live

To log in to the server, you no longer need to log in to your Xbox Live account. You can simply change your nickname and start the game on the server.