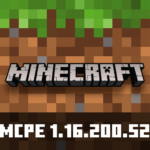 Minecraft PE 1.16.200.52
Download Minecraft PE 1.16.200.52 APK for Android with a working xbox live account! Meet Goats and Powdered Snow.
Why "Caves & Cliffs" in 1.16?
The developers decided to add the first Cave changes already in this beta 1.16. To activate the innovations, enable the experimental option "Caves and Cliffs" in the map settings.
Goat
A new mob will temporarily spawn in a Mountain Biome until it gets a new home.
Goats are the "kings of the mountains" who can climb mountains
Reduced drop damage
They can jump at an unexpected moment
They know how to push uninvited guests off the mountain
Drop the Horn if they crash into a tree
Loose snow
Snow to drown in. Temporarily available only in the Creative inventory.
There is no fall damage
They suck the player in and pass through themselves
With the help of leather boots, you can easily walk on loose snow
Goats are smart and avoid this snow
The texture is different from ordinary snow
Fog texture if the player is inside
Fixed bugs
Fixed 53 bugs. The most interesting thing is here:
Fixed departures during the flight
Improved the system of reading text from the screen
Fixed the disappearance of items from double chests
The compass no longer disappears from your hands when used on Magnetite, if you are in Creative Mode
Fixed the generation of cocoa beans
Fixed the texture of Non-Merite pants
Residents no longer take jobs from each other
Two Piglins can no longer pick up the same object that has fallen next to each other
Bees come out of the hive only from the front side
Fixed the /playsound command
The maximum duration of the command /effect is 1000000 seconds
Fixed the texture of Zombified Piglin
Fixed the Profile screen
This is a beta version. Make backup copies of the worlds.
Download Minecraft 1.16.200.52 Beta
Version 1.16.200.52 Beta
Working Xbox Live

Free login to your Xbox Live account is available. No restrictions.

Working servers without Xbox Live

To log in to the server, you no longer need to log in to your Xbox Live account. You can simply change your nickname and start the game on the server.
Official Changelog