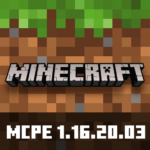 Minecraft PE 1.16.20.03
Download Minecraft PE 1.16.20.03 APK for Android with a working xbox live account!
Two releases at once
In addition to the release of Minecraft PE, Minecraft Java 1.16.2 was released on PC today. Developers try to adhere to the simultaneous release of releases for all platforms.
The Cruel Piglin
He is a Brutal Piglin. Spawn with a golden axe in the Bastion. Some interesting facts about him:
Attacks players even in golden armor
Does not pick up things from the ground
You can't trade
Not afraid of the fire of souls
Not afraid of Zoglins and Zombipiglins
Crafting Management
It has become more convenient to play with the controller. Bugs have been fixed, among them:
Fixed a bug that made it impossible to choose crafting
Fixed tooltips
Fixed bugs
Fixed 71 errors. Some fixes from old beta updates. We have written out the most interesting for you:
Fixed custom skins on servers
Mobs will now spawn within a radius of 44 blocks
Zombies will spawn underground again
Hoglins no longer attack players in peaceful mode
Piglins can no longer pick up a whole stack of gold
Wall blocks are now connected to glass blocks
Fixed the tremors from the slime blocks
Fixed the level of light from the Bonfires of souls
Items made of Nezerite no longer bounce off lava
Download Minecraft 1.16.20.03
Version 1.16.20.03
Working Xbox Live

Free login to your Xbox Live account is available. No restrictions.

Working servers without Xbox Live

To log in to the server, you no longer need to log in to your Xbox Live account. You can simply change your nickname and start the game on the server.