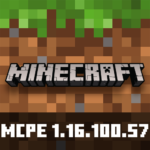 Minecraft PE 1.16.100.57
Download Minecraft PE 1.16.100.57 APK for Android with a working xbox live account! Made a lot of changes and added commands.
General changes
A total of 71 changes were made to the game. Among them, we have identified several main groups. List of general changes:
Fixed crashes during the game
Fixed crashes due to the new achievements screen
Optimized the loading of chunks
Fixed the breakdown of Portals to the Lower World
The Mayakovsky achievement can now be unlocked
Fixed getting the "Archer" achievement
Fixed the generation of chests in the Edge
Mobs, blocks and items
The spawn radius of mobs now depends on the drawing distance of the map
Fixed residents who were spun in previous versions of Minecraft
Increased the productivity of farmers when working on the beds
Wings of Phantoms added voice acting
Striders can jump on Magma blocks
When the player returns from the Edge, his pets remain tamed
Fixed the textures of beehives and bee nests
Fixed the display of item names
Banners can be crafted in the 2×2 crafting window
Fixed the display of crafting items
Fixed the display of the damage of an item that was not displayed before the restart of the world
The strength of an item is displayed immediately after crafting it
Fixed the display of mobs' heads and bee summoning eggs in the inventory
Armor made of Nezerite now does not lose strength if the player is standing on magma
Teams
Recently, new commands have been added to the betas. Bedrock 1.16.100.57 is no exception:
The /ClearSpawnPoint command has been added
Added the /event command to trigger events
Using the /spawnpoint command no longer affects sleeping players
The rest
These were the main changes. In addition to them, minor changes were made to the game in the following categories:
Technical
User Interface
Skin Editor
Crafting Window
Touch control
Sound
This is a beta version. Make backup copies of the worlds.
Download Minecraft 1.16.100.57 Beta
Version 1.16.100.57 Beta
Working Xbox Live

Free login to your Xbox Live account is available. No restrictions.

Working servers without Xbox Live

To log in to the server, you no longer need to log in to your Xbox Live account. You can simply change your nickname and start the game on the server.