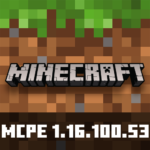 Minecraft PE 1.16.100.53
Download Minecraft PE 1.16.100.53 APK for Android with a working xbox live account!  We fixed several technical errors and fixed structural blocks.
Structural block
The main corrected errors are related to structural blocks. In total, 4 items were affected:
The name field was removed from the 3D model export screen
Fixed the calculation of the block position during the preview
Working with structural blocks no longer affects the flow of time in the game
Fixed a bug with the Reset button
Fixed bugs
In addition to fixes with structural blocks, 5 common errors were fixed.
Lava and water textures are displayed again if honey or slime is nearby
Fixed a spawn near the Edge gate
The growth of plants and grain crops was made smoother
Now you can use the execute command to call a mob
Fixed the work of particles
1.16.40 for PS4
At the same time, the full version of Minecraft 1.16.40 was released today, but only for PS4 devices with only one fixed critical error.
Also, when hacking the file, we found that many systems inside the apk file were changed. This once again confirms that the official Changelog does not show all the information 🙂
This is a beta version. Make backup copies of the worlds.
Download Minecraft 1.16.100.53 Beta
Version 1.16.100.53 Beta
Working Xbox Live

Free login to your Xbox Live account is available. No restrictions.

Working servers without Xbox Live

To log in to the server, you no longer need to log in to your Xbox Live account. You can simply change your nickname and start the game on the server.
Official Changelog