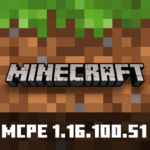 Minecraft PE 1.16.100.51
Download Minecraft PE1.16.100.51 APK for Android with a working xbox live account! The main direction of the update is Java Parity.
New Achievement screen
Last time we already announced a new achievement screen. In this beta, the changes continue. According to the developers, players will gradually receive updates directly in the game client.
Java Parity
The developers have worked out equality with the Java version. Made a lot of changes to Bedrock:
Added sound when laying eggs by a sea turtle
On land, a dolphin dies in exactly 120 seconds
Fixed the repair of items with the help of experience
Gast's fire projectiles no longer destroy Basalt
Increased the strength of basalt blocks
If you put a red torch on TNT, it will not activate
Spheres of experience float in the water
Fixed the floating of the Nezerite in the lava
Discounts after the raid now correspond to Java
Pistons must not be moved above the maximum height
Fixed bugs
Fixed 28 bugs.
Fixed the water in the bubble columns
Fixed the opening of the schalker's mailbox
Trolleys and boats now retain their custom name after being demolished and reinstalled
Fixed the water flow
Fixed the rail connection
Turtles and dolphins move correctly to the water
Fixed the compass in the boat
Fixed the spawn of Gasts
Ifrits can switch between melee and ranged combat again
Fixed the operation of tags
Fixed collecting fish with a bucket
This is a beta version. Make backup copies of the worlds.
Download Minecraft 1.16.100.51 Beta
Version 1.16.100.51 Beta
Working Xbox Live

Free login to your Xbox Live account is available. No restrictions.

Working servers without Xbox Live

To log in to the server, you no longer need to log in to your Xbox Live account. You can simply change your nickname and start the game on the server.
Official Changelog